You are a new Cubik user (or you are interested in Cubik) but never saw what the software looks like before?
> This little guide is for you!
What is Cubik exactly?
Cubik Studio is a 3D modeler for games with graphics composed of boxes and/or voxels. It supports games and game engines and is designed to be fast to use.
The very first version of Cubik (Cubik Pro) has been released the 1st April 2014 and was the very first 3D modeler for Minecraft 3D Model JSON format. Facing the number of users - pro and hobbyist - Cubik grew up quickly bringing ton of new features (always for free, without any paid DLC).
Cubik Studio has been released the 1st November 2016, after 1 year of development, rebuilt from scratch and bringing crazy new features for beginners and advanced users. Cubik Studio is an advanced 3D modeling tool for Minecraft, Stonehearth, Staxel as well as Unity and UnrealEngine.
What do I get after purchase and how do I install it?
After purchase, you just have to
Go in the Download section (while being logged in your account) and click the button to download Cubik for Windows (32bits or 64bits), MacOSX or Linux.
In the ZIP archive you just downloaded, you have Cubik Updater.
Extract the ZIP content in a folder you can call "Cubik" (for example).
Launch Cubik Updater which will install Cubik Studio. Be sure to put Cubik Updater where you want to install Cubik Studio (where the current user has read/write access).
Downloading and installing Cubik Studio via Cubik Updater
What formats does Cubik Studio support?
Cubik Studio can import and export MANY file formats, here is a list (It can be incomplete because updates sometimes add new formats):
Load/Save

.cubik

: binary compressed format which can contain settings, elements, voxels, meshes and textures
Import/Export

.json

: Minecraft JSON format for blocks and items 3D models
Import

.mcpe

: Minecraft Bedrock JSON format for all entities 3D models (requires to extract entities json file and rename extension to .mcpe)
Export

.js

: Minecraft Bedrock JSON format for entities 3D model (requires to be merged in the entities json file and then included in a plugin)
Export

.jpm

: Minecraft Java Optifine entities 3D model
Export

.java

: Minecraft Java Mod class for an entity 3D model
Export

.zip

: Minecraft ResourcePack containing 3D model replacing blocks "glass" and "white_stained_glass"
Export

.stonehearth

: Stonehearth files defining a 3D model
Export

.staxel

: Staxel files defining a 3D model
Import/Export

.obj

: 3D model composed of polygons. The most common 3D format which can be imported by most 3D modelers and game engines
Export

.stl

: 3D model composed of polygons for 3D printing (does not support texture)
Import/Export

.png

: On export it creates a render of the 3D model. On import it can extrude the picture or create a billboard for voxelization
Export

.binvox

: Common format for voxels (does not supports colors)
Export

.csv

: Voxels in a CSV which can be imported in some voxel editors and in any database or spreadsheet
Import/Export

.qb

: Qubicle binary format well known for voxels
Import/Export

.qef

: Qubicle exchange format for voxels (a bit more limited than .qb)
Import/Export

.schematic

: MCEdit map format, well known and used for Minecraft worlds
Import

.nbt

: Minecraft NBT format for world structures (used in game for temples, pyramids, ender builds, etc...)
Import/Export

.vox

: Magicavoxel editor format (for voxels)
Import/Export

.zox

: Zoxel editor format (for voxels as well)
What Cubik Studio looks like?
Cubik Studio is an advanced software giving you access to all the tools required to create, import, modify, paint, add details and to save/export any 3D model for your favorite game.
However, do not worry too much: Cubik has been designed to make the work as easy and quick as possible.
Very first launch of Cubik Studio = blank project
The main/default window is cut in 5 zones:
Menu (top of window)
Tools bar (on left)
Views (4 views, click on view name to maximize/solo)
Functions bar (on right)
Footer (7 slots: action description, model information, face direction, coordinates X/Y/Z, axis angle)
Menu:
The menu contains plenty of different things. Its use is pretty common and options in the different menus should be easy/common enough to understand by yourself.
File menu contains all the options to Load/Merge/Save/Save As/Import/Export model(s).

Tools bar:
This bar contains the creation tools and the model options (settings dialog and origin coordinates).
Views:
There are 4 views by default (Up, West, South and Main). Each view can be maximized by clicking on its name. The Main view is in Perspective by default but can be turned in Orthographic by checking option in Preferences (Menu Tools > Preferences > Display)
Functions:
Functions section contains 3 panels: Edit-mode, Selection and Recover.
Selection and Recover panels contains basic functions which are also found in the menu. Their names are self-explanatory.

Edit-mode contains advanced functions to help you focus on your model in different ways:
Element:
Allows you to modify your model with cuboids (scalable&rotatable cubes with textures)
Voxel:
Allows to add/remove voxels on your model (even if your model is not only voxels). Voxels are tiny colored cubes (those cubes can't be textured and can't be resized). Voxels can be converted to elements at any time!
Mesh:
Allows to add primitives or any custom mesh (via OBJ format for example). Meshes can be voxelized at any time!
Paint:
Allows to paint with common tools directly on any texture or any voxels surface
Preview:
Allows to preview the model in different positions. This edit-mode is mainly used for Minecraft export
See more Cubik Studio screenshots!
Cubik Studio models examples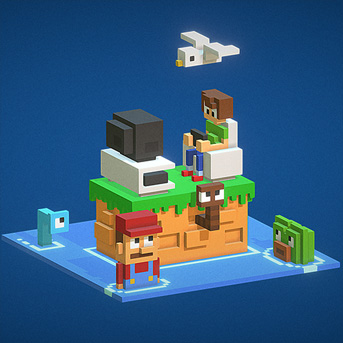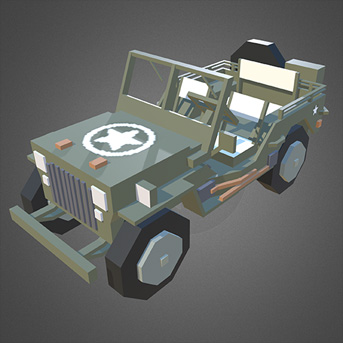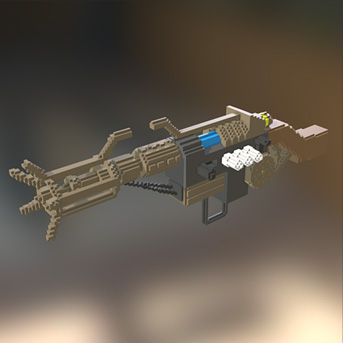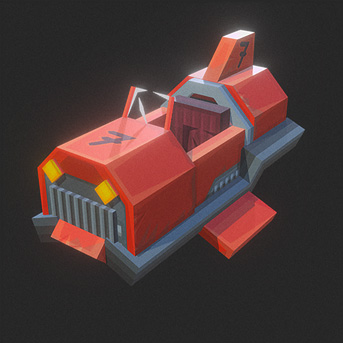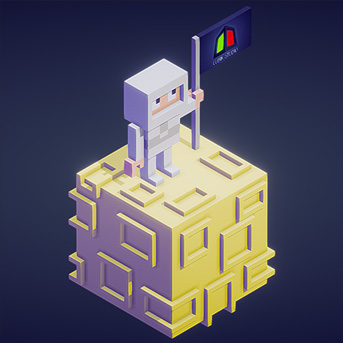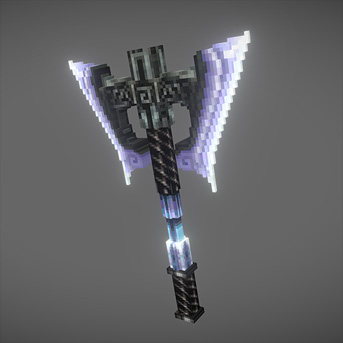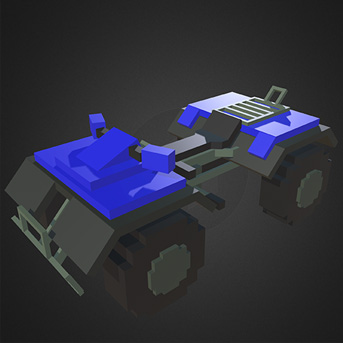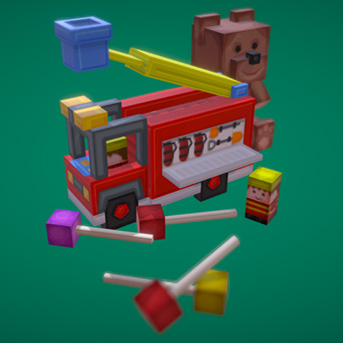 See more 3D Models created with Cubik Studio on the
official Showcase section
!